The RecSys Challenge 2022 is organized by Nick Landia (Dressipi), Bruce Ferwerda (Jönköping University, Sweden), Saikishore Kalloori (ETH Zürich, Switzerland), and Abhishek Srivastava (IIM Visakhapatnam, India).
Dressipi top
Dressipi are the fashion-AI experts, providing product and outfit recommendations to leading global retailers.
Our recommendations enable retailers to create new product discovery experiences that are personalized and inspiring and can be used at all steps of the shopper journey.
Our algorithms enable retailers to make better buying and merchandising decisions by more accurately forecasting product demand and size ratios.
Our focus is to provide the world's best apparel recommendations and predictions. We do this by taking a domain specific approach across the data we collect and create, how we structure that data and the models we build. Everything we do is optimized to handle the nuances of fashion.
We work with brands across the US, UK, Europe, and Australia and outperform every competitor when A/B tested.
Challenge Task top
This year's challenge focuses on fashion recommendations. When given user sessions, purchase data and content data about items, can you accurately predict which fashion item will be bought at the end of the session?
The content data consists of descriptive labels of the items (such as color, length, neckline, sleeve style, etc.). The labels have been assigned using Dressipi's human-in-the-loop system where fashion experts review, correct and confirm the correctness of the labels, so we expect this to be a dataset of high accuracy and quality.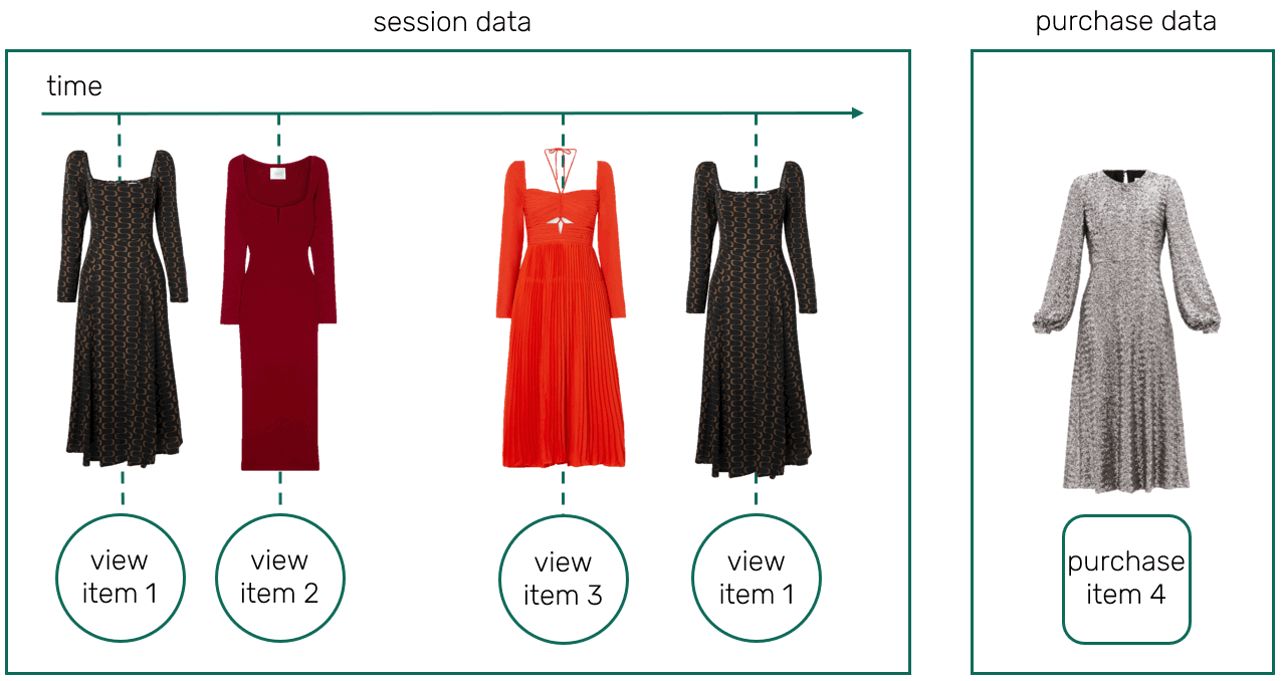 It's important to be able to make recommendations that respond to what the user is doing during the current session to create the best experience possible that results in a purchase. Nuances of the fashion domain make accurate in-session predictions more critical than in other domains:
On average 51% of total visitors are new (Dressipi Data) which means there is no historical data available and we solely have to rely on current session activity.
Even for the other half of visitors that have historical data, trends and other external factors change user preferences much more quickly than in other domains, meaning the historical data might no longer be representative of the user's interests on a case-to-case basis. This places even more importance on having a highly accurate in-session recommender that can be pulled into the mix.
Sessions can be pretty short so we need to be able to make accurate predictions as early as possible, before the user bounces.
Dataset top
As part of this challenge, Dressipi will be releasing a public dataset of 1.1 million online retail sessions that resulted in a purchase. In addition, all items in the dataset have been labeled with content data and the labels are supplied. We refer to the label data as item features. The dataset is sampled and anonymized.
Sessions: The items that were viewed in a session. In this dataset a session is equal to a day, so a session is one user's activity on one day.
Purchases: The purchase that happened at the end of the session. One purchased item per session.
Item features: The label data of items. Things like "color: green," "neckline: v-neck," etc.
The image below is an illustration of what the content data could look like for a given dress (this is a made-up example). In the dataset the label data has been anonymised by using ids: you will not get the cleartext labels like "neckline: v-neck" but rather ids representing the same data.
A more detailed description can be found by clicking on the button below.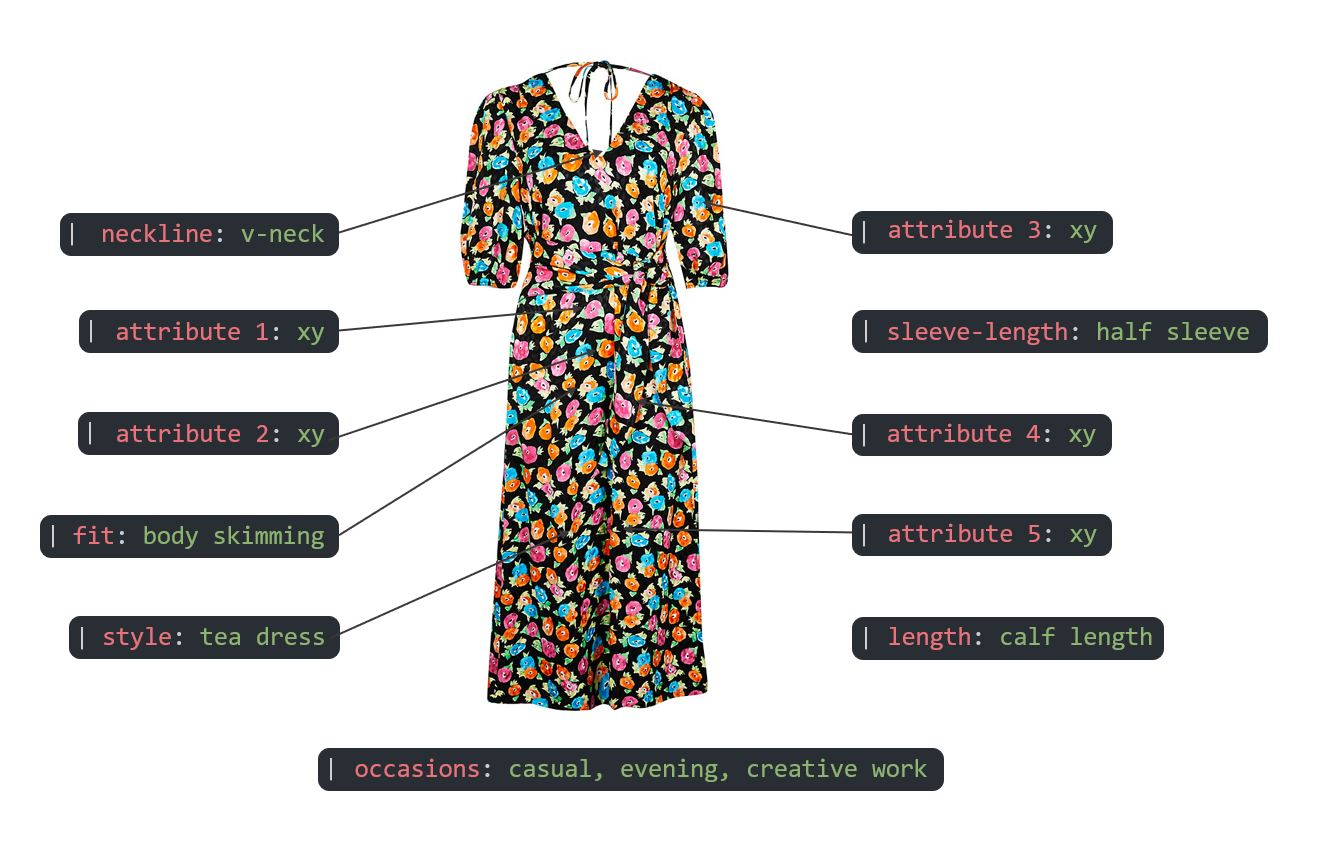 Anyone (18+) can participate
Do not use external data feeds
Do not use models trained on external data
When you train the model, only use the data from the training file. Do not use any data from the "leaderboard" or "final" test files
When predicting, treat each test session independently of all other test sessions (i.e., when predicting for test session B, the model should not have any knowledge of test session A. Even if that came before it in terms of time-stamp)
Accepted contributions will be presented during the RecSys Challenge Workshop in 2022.
Participation and Data top
The data for this year's challenge is provided by Dressipi.
Registration & data access is open now!
The challenge has finalized, but you can still access the dataset!
Consult the Google Groups if you are experiencing any issues.
The dataset and detailed information on the challenge participation will be provided after creating an account.
Participation for the challenge is subject to the acceptance of the Terms & Conditions.